Bartendaz' empower youth with acrobatic exercise



By Debra Alban
CNN





ATLANTA, Georgia (CNN) -- The Bartendaz of New York want to serve as many young people as possible -- and that's a good thing.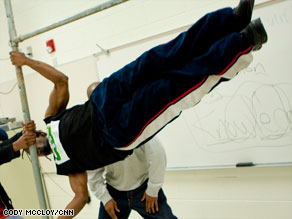 One of the Bartendaz, Metaphysics, performs the flag move during a demonstration at an Atlanta-area school.

1 of 2

These fitness gurus aren't promoting underage drinking. Named for the creative moves they perform on the pull-up bar, the Bartendaz are empowering youths through calisthenics.
By ditching free weights and weight machines in favor of using their own body weight on the bar and the floor, the Bartendaz have developed a series of acrobatic strength exercises that have sparked attention on YouTube and from such celebrity clients as rapper Ludacris and mixed martial arts champion Rashad Evans. Some members also earned a stint with New York's Apollo Circus of Soul.
But Bartendaz founder Hassan Yasin's proudest achievement is his program's impact on youths.
"My number one claim to fame [is] ... when I walk in the park and they're not chilling on the benches, they're at the bars," said Yasin, 40. "All the guys that [were] hanging out there, taking up space, [are] now leaving because there's too many youth coming back."
Dozens of New York City schools have adopted Bartendaz moves into their physical education programs through grass-roots networking, Yasin said. He believes the exercises resonate among students who have been otherwise tough to reach.

See the Bartendaz in action »
The Brooklyn Academy High School for at-risk students incorporated the program into its curriculum to motivate students to become more involved in physical education, said principal Elaine Lindsey. But the kids love it so much, she said, that it became "a tool to motivate the students to actually come to school."
Don't Miss
Bartendaz NYC
Hip-hop helps heart health education
In Depth: Fit Nation
The minimal equipment makes it financially and logistically accessible without the need of a gym. And the use of body weight, instead of free weights, keeps it safe for young bodies, said Dr. Stephen Sanders, the director of the School of Physical Education and Exercise Science at the University of South Florida. As a general rule, children should not lift heavy weights until after puberty, when their muscles are more mature, said Sanders, who is not affiliated with the Bartendaz.
The Brooklyn Academy was unable to afford the Bartendaz visits this year, which Yasin says cost about $400 to $600 per session for 25 to 30 students. But, Lindsey said, "Once they mastered it here, they could always do it [at] home or anywhere."
The Bartendaz have also found success teaching juvenile and adult inmates at Rikers Island, the New York jail facility -- an idea met with resistance about five years ago.
" 'Don't bring fitness in there. They're in jail, what are you doing?' " Yasin said, quoting early critics. "I said, 'It's like stress management. Give us an opportunity to present it.' Once we presented it, that was it. We started putting bars in the yard so the young men can work out."
"They put us in the worst buildings, the most violent, and we became a breath of fresh air because there [are] no organizations going inside. So for one to come inside, it gives ... the inmates the opportunity to come out and say, 'Let me listen to what they have to offer. And now I can get out of my cell,' " Yasin said.
Learning from someone who's been there
This wasn't Yasin's first experience with the New York City Department of Corrections. A native of Manhattan's Lower East Side, he spent four years behind bars in his early 20s and did time at a juvenile facility at age 17, both for drug-related charges.
After his release in the early 1990s, Yasin cleaned up his act and became a motivational speaker -- talking to New York youths about substance abuse awareness, conflict resolution, gang prevention and leadership -- which evolved into his nonprofit, Giant Thinking. Meanwhile, he was honing his acrobatic skills on the pull-up bars at local parks, and eventually gained a following and partners-in-training.
Health Library
MayoClinic.com: Health A-Z
Having built up respect from teachers and administrators at New York City schools, Yasin and his team were tasked with developing a program to get kids to stop cutting gym class.
"The ultimate thing was ... how can we do this in a way we don't have to use a whole bunch of equipment?" said Dr. G (short for Dr. Goodbody), one of the Bartendaz whom Yasin consulted in developing the school initiative. "So the concept of anytime, anywhere exercises came about."
Today, as the Bartendaz visit schools and other facilities, they divide their time between spreading the positive messages of Giant Thinking and the fitness training of Bartendaz.
The model effectively held the attention of students at Crossroads Second Chance South. Through a partnership with Atlanta, Georgia, nonprofit Next Century Youth, the Bartendaz recently held a series of demonstrations in the Atlanta area, including Crossroads South, an alternative high school for students who have been expelled.
After high-fiving one another for successfully naming 10 fruits that promote good health, the Crossroads South students gave a standing ovation for their classmates as they joined the Bartendaz for compound moves on the pull-up bar and on the floor for pushups.
Exercising at the pull-up bar brings a camaraderie that you don't see among weight lifters, Yasin said.
"[You see] healthy competition and a lot of smiling going on, versus the aggression" involved in weight lifting, Yasin said. There's "nothing to talk about when you're lifting weights. They're dead serious."
Crossroads South PE teacher Rachelle Bradley said she hoped to work further with the Bartendaz to incorporate their moves into her teaching.
"It's very practical, not something structured. ... Our students don't like structure, and this is more creative," Bradley said.

Bartendaz fan Justin Kemp, 18, found the group on YouTube about a year ago and took on its exercise techniques soon after. Before long, he went from doing three pushups during television commercial breaks to being able to do 100 to 150 consecutively, he said.
"I feel challenged," Kemp said. "I love when I'm challenged because ... it keeps me on top of my game."
Women's Boxing: A Noble and Uphill Battle for Acceptance
For most people, the thought of their loved ones getting punched in the face for fun is not exactly appealing.
And when that person is a woman it becomes even more undesirable. But why are there so many women and girls attracted to the sport of boxing?
The first appearance of the sport was in the Olympic Games in 1904, as a demonstration bout. Female boxing remained a taboo and was banned in most countries for most of the twentieth century. Most societies saw boxing as a man's sport.
In the 1990's, there was a boom in popularity for women's sport in general. Big names started to emerge like Laila Ali the daughter of Muhammed Ali.
At an amateur level, the popularity of the sport continues to rise. Jennifer Santiago is a boxing trainer at the Printing House Sports Club in Lower Manhattan. As an amateur, she won the USA Golden Gloves tournament two years in a row.
She said: "In the beginning it was mostly males, but six-and-a-half years later, it's majority female."
Despite this growing popularity, professional women's boxing is a long way from being able to compete with the male sport. There are very few incentives for professional women boxers according to David Carter, the assistant professor of sports marketing at USC Marshall School of Business.
Said Carter "Denial of entry into the 2008 Beijing Olympics by the International Olympic Committee is yet another blockade that ruins any opportunity for potential business in the sport."
Ray Stallone is the vice president of HBO's media relations. He said "There is no incentive to do one fight. We like to do a series of fights."
Asked whether HBO would ever screen women's boxing he said "HBO would definitely entertain the idea of women's boxing, just not right now."
But do people only participate in sport to become professional? The huge popularity of amateur women's boxing suggests not.
Jim Atkinson is a trainer at Fitzroy Lodge boxing club in Lambeth, south London. Atkinson said "Fitzroy Lodge is fully in support of women's boxing and we installed a women's shower and changing room at our own expense."
In Dunfermline, Scotland, Jayne Mowbray hopes to organize the first all-female boxing bill. Mowbray, a 28-year-old social worker, trains amateur women boxers from all walks of life at Mickey's Gym. Many of her clients wish to fight competitively, once their affiliation with Amateur Boxing Scotland is formalized.
Mowbray said "Several (boxers) are married with children and are using boxing as a means to boost their confidence and condition their bodies."
Mowbray's star pupil is 29-year-old Venture Scout leader, Frances Elder.
She said "The thought of getting hurt doesn't bother me at all. When you've been running a scout troop you get used to being knocked around a bit."
However, boxing manager Adil Ciftici of Fight Night Events in Berlin said "Knowing that the average boxing fan doesn't fancy women's boxing as much, it needs a special combination of capability, personality and physical attraction in order to have a chance of achieving something big in this sport."

_____________
| | |
| --- | --- |
| | The 2008 UFC Awards: Part One |
The year is coming to an end; we are in the final stretch. It's almost time to say good-bye and welcome in 2009.
The year 2008 has brought us new UFC pay-per views, new Ultimate Fight Nights, and a new season of The Ultimate Fighter.
Every sport has end of the season awards they give out, but MMA/UFC doesn't have seasons. So to solve this problem, I've came up with a great solution!
The First Annual End of the Year Awards (Part One)
There are 10 Awards to give out, so let's get the show started.
The Rookie of the Year Award
And the winner is...
Brock Lesnar
Brock Lesnar made his UFC debut in UFC 81 against Frank Mir. Despite being dominant the majority of the fight, Lesnar made some rookie mistakes and got caught in an knee bar. Lesnar did bounce back with an impressive win at UFC 87 against Heath Herring.
He then was granted a title shot at UFC 91 against Randy Couture. Although many MMA fans thought he'd surely lose, he shocked the world and TKO'd the champ in the second round. He's now sitting on top the heavyweight ladder, waiting on his next opponent.
Runner Up (Demian Maia)
The Submission of the Year Award
And the winner is.....
Steve Cantwell
I know he's one of MMA's most hated right now, but he did break a guy's arm with an arm bar. Cantwell has four submission victories on his record and three by arm bar. Cantwell is up for one more award, so this may not be the last we see of him.
Runner Up (Demian Maia)
The Knockout of the Year Award
And the winner is.....
Rashad Evans
Rashad Evans had a highlight reel knockout at UFC 88. What makes this KO even better, he did it against Chuck Liddell. I know Chuck is past his prime, but he's still one of the biggest names in UFC history.
This knockout also led to Rashad's upcoming title shot against Forrest Griffin.
Runner Up-Tie- (Josh Koscheck) and (Junior Dos Santos)
_____________
Do Dieting Monkeys Live Healthier and Longer Lives?
An ongoing study at the University of Wisconsin-Madison in which rhesus monkeys are being fed an extremely calorie-restricted diet gives preliminary evidence that the regime prevents age-related diseases. For decades, scientists have known that a diet of about 30-percent fewer calories than normal extends the lifespan of mice by 10 to 20 percent, reduces their incidence of cancer, and prevents the deterioration of learning and memory in the rodents (see "A Clue to Living Longer"). And similar effects have been shown in lower organisms from yeast to fruit flies. But such life extension has not been proven yet in primates.
Researchers at the Wisconsin National Primate Research Center have been studying a group of 76 rhesus monkeys, half of them on calorie restriction and half on a normal diet, for 18 years, to determine whether or not the restricted diet has the same health benefits in primates as it does in other animals. The study will likely go on for at least another decade, since the monkeys are only now entering old age. Captive rhesus monkeys usually live to around 25 years old, which is now about the average age of the monkeys in the study. An age of 40 for a rhesus monkey is similar to 120 for a human--the apparent maximum lifespan.
Although there is now strong evidence that caloric restriction prevents diabetes in the primates (the disease is a major killer of captive rhesus monkeys), it's still too early to assess the diet's effects on their lifespan, according to Richard Weindruch, professor of medicine at the University of Wisconsin, who is heading up the study.
But preliminary evidence suggests that the diet is preventing loss of muscle mass, arthritis, menstrual irregularities, and other signs of aging. "Over the next 10 years, survival differences will come out," predicts Ricki Colman, a scientist on the study. Meanwhile, eight of the monkeys on a normal diet have died of age-related causes such as cancer and diabetes; five on the restricted diet have died of these causes.
As the monkeys enter old age, the researchers are beginning gene expression profiling on them--the first step toward finding the molecular mechanisms that connect the extreme diet to its effects in the animals. The monkeys will also undergo MRIs and be tested for mental acuity, to assess whether or not the diet prevents age-related deterioration of learning and memory.
Even if a diet of 30-percent fewer calories proved to extend healthy human lifespan, however, it's unlikely that most people could be able to stick with it. (A group of individuals following such a diet, called the Calorie Restriction Society, seem to have some health benefits. See "Human Study Shows Benefits of Caloric Restriction".)
Researchers studying caloric restriction in animals, including Colman, say that, in general, such a diet is "not a long-term possibility in humans." Rather, the primary goal of their study, Colman and Weindruch agree, is to learn about aging and to understand how caloric restriction changes metabolism and gene expression.
_____________
Beyond Guacamole: Work Avocado Into Your Daily Menu
Although sometimes maligned for its fat content, the creamy, heart-healthy avocado can play a very versatile—and nutritious—role in your diet. Here are a few facts about avocados.
Avocados are a fruit, not a vegetable, and have more potassium than bananas.
The Aztecs, among the earliest harvesters of the avocado, used it as a sexual stimulant.
Avocados are cholesterol-free but have 30 grams of fat, most of which is heart-healthy monounsaturated fat.
Hass avocados (the most common variety) are available year-round. They're ripe when the skin is nearly black and the fruit yields to soft pressure.
Tip: In the bag
Contributing Editor Robin Miller, host of Food Network's Quick Fix Meals With Robin Miller, offers this tip: To speed ripening, put avocados in a brown paper bag with an apple for a few days at room temperature. The apple releases ethylene gas, a ripening agent.
Trainer Roach Seeks Revenge Against De La Hoya
Manny Pacquiao has nothing bad to say about Oscar De La Hoya. This comes as no surprise, since Pacquiao is an aspiring politician who plans yet another run for congress in his native Philippines.
Rather, the disparagement of De La Hoya has been left to Pacquiao's trainer, Freddie Roach. It's a task that Roach, among the most charming and accomplished people in the fight game, has performed with uncharacteristic relish. In fact, it's not too much to say he's carried this promotion. He's succeeded in making it personal.
Pacquiao won't speak of his business dealings with De La Hoya, but it is known that they met in September 2006 and that the Golden Boy himself, the namesake behind Golden Boy Promotions, gave Pacquiao a briefcase with $300,000, a sum intended as a signing bonus. No surprise that the politician took the money.
He even signed with Golden Boy. The problem was, he had also signed with Bob Arum, and when the 77-year-old promoter heard that De La Hoya was moving on his fighter, he immediately set out for General Santos, a slum that makes Manila look like the City of Light.
"That's the difference," said Roach. "Bob got his ass on a plane and went all the way to see Manny in the Philippines."
If Oscar wanted to sign him so much, I asked, why didn't he fly out, too?
"Oscar would never do that," said Roach. "Oscar would never pay that kind of respect."
The matter went to court, and was eventually settled through mediation. Pacquiao stayed with Arum and returned the $300,000. But the issue of respect—less easily quantified, and more irksome to Roach—is still being decided.
Roach has his own beef with De La Hoya, of course, having trained him for his fight with Floyd Mayweather Jr. De La Hoya fired Roach after the split-decision loss.
"I didn't tell him to stop jabbing," said Roach. "But that's what happens. A fighter losses, he blames the trainer."
That's not what bothers him, however. The real breach in respect, at least to Roach's way of thinking, was not telling him to his face. "I found out in the media," he said.
This fight has afforded the trainer an opportunity to plot his revenge. A couple of months ago, I went to Roach's Wild Card gym in Hollywood, where the trainer declared that his fighter would knock out De La Hoya in nine.
On Wednesday, I asked if anything since had caused him to rethink his forecast. "No," said Roach. "I think this will be his last fight."
Oscar's last fight, he meant: "We're going to break him down and knock him out."
Here's his theory: Oscar is 35, and hasn't scored a true knockout since 2000. His last six fights include three losses, going back to 2003. What's more, in his advanced year, De La Hoya has developed a tendency to stop using his best weapon—the jab—after six rounds. If an opponent like Steve Forbes can bust up De La Hoya's face, what can Pacquiao do?
Pacquiao, always a tireless fighter, is in the best shape of his life. Roach says he won't give Oscar a moment's rest. As a southpaw, Pacquiao will be able to penetrate De La Hoya's defenses, beat him around the body, then attack the head.
It all sounds very logical, entirely convincing until I leave Roach's company. The fight is being billed as "The Dream Match," as if Pacquiao and De La Hoya were characters in a video game, as if their physical attributes could be adjusted to make for a fair contest.
The problem is that fighters don't exist in the cyber realm. There's a reason why "pound-for-pound" arguments are never adequately resolved. The 147-pound weight limit isn't an equalizer here. It's a huge advantage for De La Hoya.
The Golden Boy may be 35, but he's only coming down about seven pounds, four from his last fight. He's almost 5'11". His reach is 72 inches. That's just too much for Pacquiao, who's 5'6", with a 67-inch reach.
Pacquiao made his professional debut in 1995 at 106 pounds. His memorable battles with Juan Manuel Marquez, Marco Antonio Barrera and Erik Morales were all been waged between 125 and 130 pounds. Only once has Pacquiao fought heavier. That was last June when he was 134 for David Diaz, whom he took out in nine.
You wonder, however, if Morales could beat him at 125; if he went the distance with Marquez at 129, then what can he do against a guy who's built like their older brother? Oscar's left hand will only be more potent with eight ounce gloves.
Finally, and perhaps more important, is the matter of style. De La Hoya has problems with cute guys, superior boxers like Pernell Whitaker and Floyd Mayweather. But Pacquiao is made to order. Not only is he small, he comes right at you.
"Pacquiao is going to fight his typical fight," said Bernard Hopkins. "That's Oscar's style. That's made for him."
Put another way: "If you know a guy's coming to rob your house, you don't go outside. No need to chase the burglar. You just load up the shotgun, sit in the rocker, and wait for him."
Hopkins knows of what he speaks. Four years ago, De La Hoya tried to come up to take his middleweight crown. They fought at 158 pounds, a tiny jump compared to that which Pacquiao will make. Hopkins was 39, four years older than Oscar is now. Of course, Hopkins knocked him out in nine.
That's what'll happen Saturday night.
I have all the respect in the world for Freddie Roach. So my heart says Manny.
But my head says Oscar. In nine.
_______________
_____________