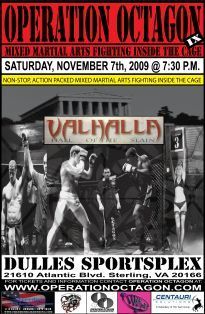 Come out and support your local VA/DC/MD fighters for the best PRO & AMATEUR MMA fights on the East Coast!
Experience the awesome fight match-ups made possible only by the merge of Valhalla Fights & Operation Octagon!
Special Internet Pre-Sale
Log onto www.operationoctagon.com & use Promo Code: MMAfan & SAVE $5 on every ticket you purchase now on-line!

Get Your Tickets Now Before This Event Sells Out!
Read more »