**TONIGHT**
FRIDAY NOVEMBER 7TH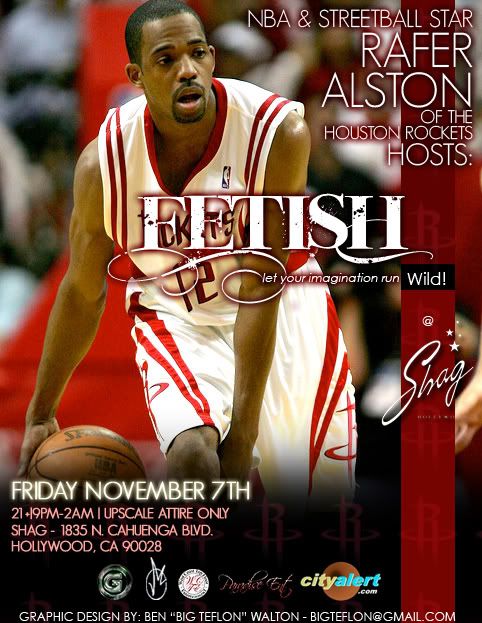 Fetish Fridays Welcomes Special Guest Host NBA Star & Streetball Player Rafer Alston AKA Skip To My Lou Featuring Incredible Music By DJ Mark Da Spot!

DATE & TIME: 11.7.08 - 10pm to 2am
LOCATION: SHAG 1835 N. Cahuenga Blvd., Hollywood, CA 90028
**FREE Admission to Ladies arriving before 10:30pm - Gents $10 before 10:30pm on Ben & Chris' List!!!


RSVP for Ben & Chris' list:
E-mail: bigteflon@gmail.com | Call/Text: 323.397.5875
Say Ben & Chris' list @ The Door for Entry ALL NIGHT LONG!!
-------------------------------------------------------
Chocolate Sundaes Comedy @ The World Famous Laugh Factory



Chocolate Sundaes Comedy Show



@The World Famous Laugh Factory
8001 W. Sunset Blvd
Hollywood, CA 90046


Hosted by: Tony Rock & David Arnold
Executive Producer: Pookey Wigington
Music by: DJ Sidekick


FEMALES FREE, Men 1/2 price on GuestList til: 10:30pm - Must RSVP with First & Last name, phone number, email adress and number of guests.



You will be placed on Ben & Chris' list.



To get on Guest List: Call/Text Ben @ 323.397.5875 or Email:
bigteflon@gmail.com

There will be no call back or e-mail reply. All names on the guest lis must have first and last name, email address or phone number to be confirmed. Seats are limited. - Please reply by 5:30pm Sunday Afternoon.

Showtime: 10:00pm | Guest List Closes @ 10:30pm



There is a two drink minimum.



________________________

WEDNESDAY NOVEMBER 12TH


FOR MORE INFO EMAIL: inkmywholebody@gmail.com
-------------------


Chris "Young Hef" Grayson & Ben "Big Teflon" Walton of Double Standard Event Planning.