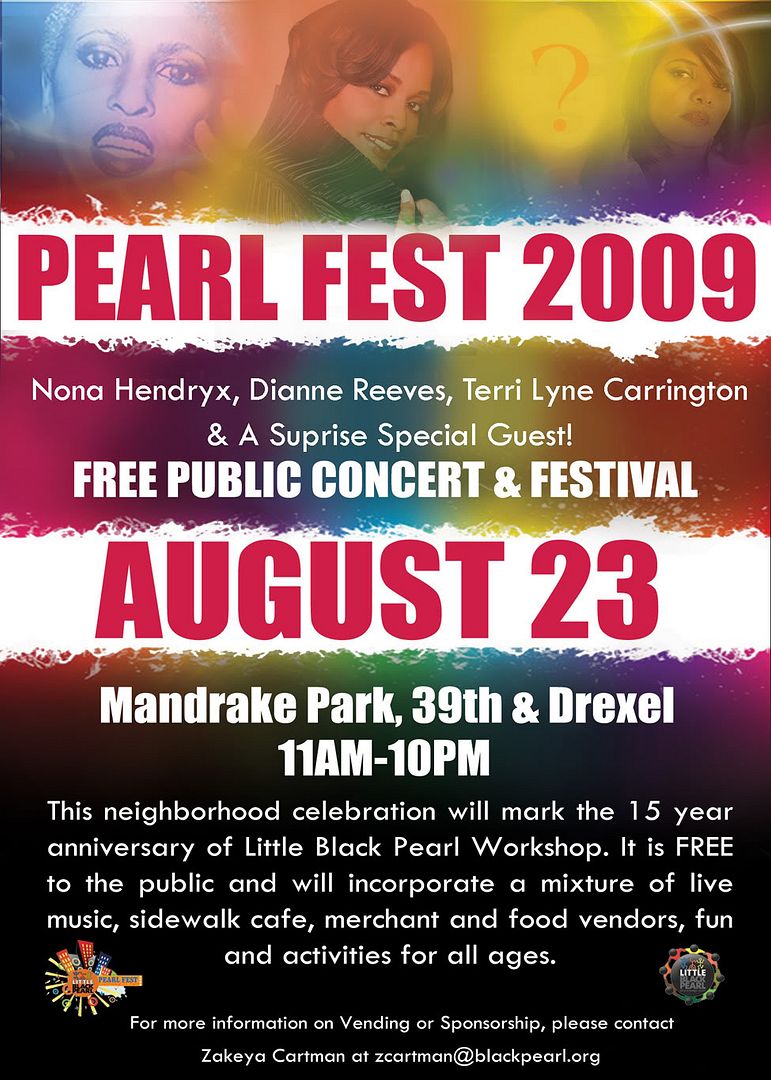 Little Black Pearl presents "Pearl Fest 2009—Celebrating 15 Years of Urban Innovation". Pearl Fest 2009 will be held Sunday, August 23rd in Mandrake Park at 39th and Drexel Boulevard from 11:00am–10:00pm. The outdoor community festival is FREE TO THE PUBLIC and will incorporate a mixture of live musical entertainment, food & merchant vendors and fun activities for all ages. A major attraction during the Pearl Fest is a day of musical entertainment including an energetic performance by Nona Hendryx, Dianne Reeves, Terri Lyne Carrington and a Special Guest Artist.
Little Black Pearl (LBP) is an innovative non-profit organization that provides community-based networks designed to empower youth and adults with art, education and entrepreneurship skills. The Pearl Fest is LPB's "thank you" to the community for 15 years of dedicated support and a celebration of our continued effort to provide safe, positive programs to the community.
Over 6,000 attendees are expected to enjoy a variety of artistic and cultural food and merchant vendors. A few vendors from Pearl Fest 2008 included Sir Chicken, Signature Cuisine, Vegetarian Delight, Uncle Joe's Jerk Chicken, Ain't She Sweet Café, Glass Art by Ronnie Pruitt, Phantom Gallery, Ginger Bliss, The Birth of House Music T-shirts and The Goree Shop. Pearl Fest will include a Health Fair with community health organizations providing free screenings and consultations; Kid Land for youth activities and musical entertainment throughout the day.
Read more »