It's official... OneDegreeConnected.com is global, and to celebrate we're offering you exclusive business information, tools & resources directly from world-renowned sales, marketing, leadership & motivational experts at our upcoming…
Sept. 24th FREE Global Launch WEB Event

"Bridging the gap between social networking, and creating
new business within existing spheres of influence."

While most social media venues only serve the 'social'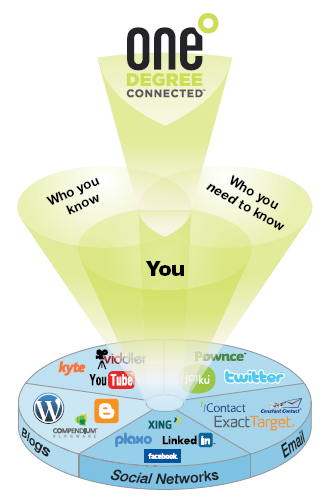 aspect of doing business, today's highly competitive
global market mandates that professionals not only
focus on "who they know", but start focusing more on
"who they need to know".
OneDegreeConnected.com has provided an
outstanding solution to professionals across all
industries, providing direct access -- a true ONE
DEGREE connection from within an already established
referral relationship-- to "who you need to know", in
a secure, non-solicited envornment. Professionals
are beginning to embrace this new tool as...
"The bridge between social
networking, and a method of
monetizing mutually beneficial
relationships in both an ethical
and responsible manner!"
---
To celebrate our global launch we want to GIVE BACK by offering you a special WEB EVENT packed full of timely guidance and insight from industry experts around the globe.
In addition to the beneficial presentations, you will also be eligible to receive ongoing guidance, special tools and access to resources that would normally costs thousands of dollars - all available exclusively to our attendees at no cost!
If you are unable to attend the entire event, Don't Worry - as a registered attendee you will have access to each of presentations and any additional resources…. so you won't miss a thing!
In addition to learning more about our B2B, unique multiple-referral tool, and hearing what the experts are saying about it… you will get insights and helpful business information from an outstanding list of presenters, including:
KEYNOTE by

BOB BURG


Author, Speaker, Sales Guru to Millions

Author of "The Go-Giver", (a new business classic), and the critically acclaimed "Endless Referrals", Bob is a highly sought-after speaker who combines humor and entertainment while sharing his proven systems to audiences, many of whom immediately profit from his insights!

Jonathan Farrington

A globally recognized business coach, mentor, author & sales strategist who has guided many towards optimum performance levels. He is the Chairman of The Sales Corporation, CEO of Top Sales Associates and Senior Partner of the JF Consultancy based in London and Paris.

Kevin Eikenberry

Two-time best selling author, speaker and consultant, Kevin provides a unique approach to performance support and organizational training. As Chief Potential Officer for the The Kevin Eikenberry Group, this leadership guru has developed and implemented "The Remarkable Leadership System" within corporations, universities and other organizations across the country .

John R. Patterson

President of Progressive Insights, a customer experience consultancy, and member of the Chip Bell Group, he has over 20 years experience with senior leadership in Fortune 500 organizations. A highly-published author and speaker, John recently released his newest collaboration with Chip Bell, "Take Their Breath Away", will illustrates innovative ways to providing great customer experiences.

Josh Hinds

Josh has overcome Tourette's Syndrome to become a proven mentor and inspirational speaker, in addition to becoming an outstanding entrepreneurial coach. Through his example and expertise, Josh has a growing network of world-wide followers via his empowering site "GetMotivation.com", and continues to help others achieve great success through his personal development programs.

Thom Scott

As Managing Partner at Burg-Scott Communications, and co-founder of the highly successful "Extreme Business Makeover" conference series, this innovative 20 year marketing veteran and Legacy Architect, provides award winning, profit producing marketing for speakers, authors and solopreneurs. He also teaches his own "Marketing from the Heart" system to audiences across the country to help them achieve business success while increasing their quality of life.

Douglas Karr

President & CEO of DK New Media, and founder of NavyVets.com, SmallerIndiana.com & The Marketing Technology Blog, Doug brings decades of expertise to his global clientele to help identify and implement effective online marketing strategies. Where other consultancies may fall short— Doug has partnered with industry leaders to provide a full service solution to getting your business message & visibility optimized online.
---
We look forward to seeing you there… and feel free to share the opportunity with anyone whom you think may benefit from this FREE Conference!!
Find out more at the ODC RESOURCE CENTER.
We look forward to helping you GET CONNECTED and STAY CONNECTED with this revolutionary new business referral tool, OneDegreeConnected.com
---
Read more »