******* Online registration is closed, but you can register at the door *****
Meeting of the MIMES is a 1-day intensive / workshop designed to educated those interested in or involved in mime ministry. There is no breakout sessions, instead, each attended will be exposed to all four of our mime ministries!
SCHEDULE | INSTRUCTORS | CLASS DESCRIPTIONS
9:00 - 9:30 am

Registration & Social

9:30 - 9:45 am

Annoucements & Prayer

9:50 - 10:50 am
Anointed Feet
Physical Expressions
11:00 - 12:00 pm

Matthew 18:20
The Utterance of God within Divine Dancing

12:00 - 1:00 pm
Lunch on your own
(10% off for our registrants at the onsite TGI Fridays!)
1:00 - 2:00 pm
Paneh
Never Said a Mumblin' Word
2:10 - 3:10 pm
Ms. MIME
Behind the Mask (Veil)
3:20 - 4:30 pm
Panel Discussion: Bring your questions!
4:30 - 5:00 pm
Prayer, Final Impartation & Dismissal
back to top>>
Physical Expressions: Learn choreography and the fruit of the Spirit at the same time! This session will get you on your feet and moving. Building blocks such as body movements, posture, and expressions will be used to build a ministry piece to Amazing by Darius Brooks, however; the fundamental principals can be applied to many pieces.
The Utterance of God Within Divine Dancing: What is God saying within dancing? What is God saying when your dance is over? Explore the answers to these questions through theory, exercise, and application!
Never Said a Mumblin' Word: Our greatest example of a mime minister was JESUS CHRIST! While He walked the earth He brought abstract concepts to life. HE must be the cornerstone of any ministry that is going to stand. Bring the Scriptures to life through your movement!
Behind the Mask (Veil): Take a journey inside the heart & mind of a yielded vessel in preparation for ministry. What is going on in the minister's mind as face paint is applied in the final minutes of preparation? What emotions does one deal with? Get behind the mask and discover the truth!
back to top>>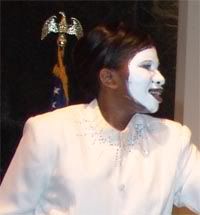 Lakita Humber serves as the director and founder of Paneh Praise Dance & Mime Ministry; she has a servant's heart and is dedicated to doing the work of the Lord. She is a member of the O'Fallon Apostolic Assembly where she serves as the dance ministry president, currently overseeing JOYED UP (children's praise dance ministry), Revelation Teen Dance Ministry and the Spirit of Elijah dancers. She is also a student at the Anointed Feet Dance Academy under the instruction of Ms. Patricia Burnett.
The Lord has graced Lakita with the opportunity to minister and teach on a National and International level. She is also the host of the Equipping the Saints Dance & Worship Arts conference which is dedicated to equipping the saints for the work of the ministry.

............................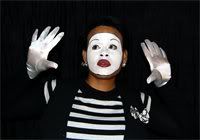 Regina Culberson has participated in the ministry of liturgical arts for over 5 years. Her style of dance has been perceived as interpretive and dramatic. It wasn't until recently her love for the art of Mime developed. Through this gift, Regina has been able to share her love for Christ within various venues not necessarily open to the gospel. As time progressed her ministry developed into Ms. M.I.M.E which stands for Miming for Inspiration, Motivation and Education. Its scriptural foundation is based from Isaiah 61:1. Its mission is to provide visual imagery through the art of mime for the interpretation of song, scripture and/or the spoken word. The vision is to administer joy, inspiration, as well as restoration to the very minds, hearts and souls of all those who are hurting and heavy laden. As well as provide that extra motivational push to help individuals reach their full potential.
Regina is a member of the Clinic Worship and Deliverance Center located in Jennings, Mo. Pastor Howard and Wilma Walker are her Overseers. Here she serves as the children's church director and participates on the dance praise team "Word N Motion." She is the mother of 1 and works as an middle school teacher. She also instructs a youth mime class at Divinity Dance Studio.
............................
Valerie Parks, Academy Director of Anointed Feet Christian Dance Academy of the Arts.
Mrs. Parks is married to Michael Parks for 16 years with three children, Antjuan (22), Ebony (15), and Michael II (11). At the age of 6 she learned introductory ballet & tap but always had the desire to do African dance. She started African dance and Dunham technique along with her daughter in 1999. She enjoyed African dance but still had a void in her life. One day, she told the Lord, " I want to dance for you." She was introduced to the Mime Ministry in 2002 which offered many opportunities, to minister in many places such as Bank of America, Fraternal organizations, family functions etc. Isaiah 6:8 I heard the LORD ask, "Is there anyone I can send? Will someone go for us?" "I'll go," I answered. "Send me!"
In January 2004 she donated her services in teaching dance/mime at her church under the leadership of Patricia Burnett. In 2006 God gave Mrs. Patricia a vision to begin Anointed Feet Christian Dance Academy of the Arts (AFCDAA) and appointed Mrs. Parks as the Academy Director. Since inception of AFCDAA God's vision has broadened and will reach all ages and ethnic cultures. Its mission is to empower God's children to build a stronger relationship with Jesus through dance by: 1. guiding them in their everyday life and 2. using them to minister to others about our Lord and Savior Jesus Christ. Ebony and Michael II are both dance ministers. AFCDAA has opened for the Mississippi Mass Choir, participated in the Harmony Healthcare fair featuring Myron Butler, Gloryland Ministries Little Rock, AR, New Year's Eve Celebration at Jackie Joyner Kersee Boys & Girls Club, Global Day of Prayer, Gateway Call Crusade with Donnie McClurkin just to name a few. The academy offers dance, drama, music and health & wellness servicing ages 3 and up.
............................
Matthew 18:20 is a divinely established Mime Ministry of the Word of Life Christian Church of St. Louis, MO. This creative ministry of expression was birthed to present a more vivid message of our heavenly Father to this generation. With the heart of God in mind and the creative expressions of the Holy Spirit as their focus, "MATTHEW 18:20" has been endowed with an uncommon grace to enhance the tangible presence of God, in the midst of corporate gatherings.
This ministry consists of Jeremy Sims, Rodney Gray Jr., Ryan Ray and Julius Sims II. They have been given a passion to continue their commitment to the Kingdom of God, as the fire of the Spirit continues to transform them into the image of Christ. Having been captivated with kingdom dancing, church theatrics, and expressions in drama since a young age, the foundation for forming this ministry to the Body of Christ was laid.
Creatively illustrating biblical Truths and God's intended purpose is their mandate and desire. Hearts that have gathered in "His" name is an atmosphere for change. These ministry sons serve under the leadership of Pastor Julius & Elder Cathy Sims.

VISION STATEMENT: VIVIDLY EXPRESSING THE UNCOMPROMISING, BONDAGE-BREAKING TRUTH THROUGH THE SPIRIT OF MIME
back to top>>
Hotel Information:
Ramada Fairview Heights
6900 N Illinois Street
Fairview Heights, IL 62208
Ph: (618) 632-4747

Room rate: $69/night plus tax
Group Code: Mime Workshop
Read more »