Have you ever thought about owning your own business or taking advantage of the real estate market today but didn't have the time, knowledge, money or credit? Our instructors solve those problems for you. They are no strangers to the school of hard knocks and struggle:
From Bob Snyder who lost his life savings and retirement in the "dot.com" bust;
To Chad Wade who experienced failure after failure in life, love, and business;
To Shanny Moreno who was trapped in her corporate America job and faced a discouraging future;
To Bill Zufelt who was a vacuum repairman and whose job "sucked";
Each of these entrepreneurs have now earned hundreds of thousands, some millions of dollars in a matter of a few months or years. Our educators will deliver practical, no-nonsense instruction on how to:
Love what you do;

Have a flexible schedule;

Have time freedom to spend with family, friends, or pursuing hobbies;

Creating your own financial future so that no one else determines your income and quality of life except for you;

Prepare to retire rich;

Give your family and children the life that they deserve and a legacy of greatness;

Become an entrepreneur;

Become a real estate investor;
And much more!
You will also be treated to a black tie event like no other; during which you will dine in style, mingle and network with multi-millionaires and experience a true evening of luxury in Miami.
Instructors will include:
Bob Snyder: Nouveau Riche Instructor and Co-Founder

Chad Wade: Independent National Senior Advisor for Utah, Florida, and Illinois

Sharon Wahlig: Nouveau Riche Leader and former Tony Robbins Success Coach

Erica Combs: Vice President of Golden Mastermind Seminars, Inc.

Bob Tierney: Independent Regional Advisor for Utah and Illinois

Brandon Sharp: Independent Regional Advisor for Utah and Illinois

Scott Rowe: Independent Regional Advisor for Utah and Illinois

Zane Hansen: Independent Regional Advisor for Utah and Illinois
BIOGRAPHIES OF INSTRUCTORS:
Bob Snyder
Nouveau Riche Instructor and Co-Founder
From the time he was just a young boy, Bob Snyder has had big dreams and a deep-down, burning desire to see them fulfilled. He is a proven leader, with more than two decades of in-the-trenches sales and business experience and has achieved industry recognition as one of the country's leading experts in team-building and marketing.

Like many, Bob experienced first-hand the down-turn on Wall Street and the evaporation of a lifetime of savings and retirement income. You probably have heard the expression, "necessity is the mother of invention." Bob is living proof that with the proper motivation, wounded eagles can fly again; and losses in the market can be overcome through real estate. Mr. Snyder's extensive background in sales and marketing has given him a unique insight into the world of real estate investing. As a result of applying his knowledge in real estate, he has been able to achieve more in just one real estate transaction than most individuals earn in an entire year of full-time work. Bob uses technology and common sense to find the right person for the right property, without enormous effort on the part of the investor. He brings fresh perspective to an old game, teaching his students to leverage their time, money and knowledge to create win-win outcomes for seller, buyer and tenant alike. To quote Bob, "Real estate is a people business; and people have problems that need a quick resolve. The better an investor is at offering solutions, the more profitable and successful they will become."

Teaching fundamental philosophies for success, Bob has wowed audiences from Bangkok to Sydney and Chicago to Scottsdale. As a partner and co-founder of Nouveau Riche University and The Real Market Experts Franchise Inc®, Mr. Snyder has developed a love for educating others on how to become financially secure through the wonderful world of real estate investing.
"Bob Snyder's wisdom, insight and information will wow your soul. His abundance is overflowing, and he wants to share it with you." - Mark Victor Hansen , Co-Creator of Chicken Soup for the Soul©
Chad Wade - Utah, Florida, and Illinois
Independent National Senior Advisor
2006 Winners Circle Champion
Featured in Your Business at Home magazine, January 2008
Featured in Success from Home magazine, September 2008
While growing up, Chad had many business ventures, such as lawn mowing, auto detailing, and door-to-door sales. He worked with his family in their local dry cleaning business for 13 years, starting out at minimum wage and working his way up to the top. The path he'd chosen proved less than satisfactory though. When Chad was 19 and working at the family business, he began his personal development with mentors like Anthony Robbins, Napoleon Hill, and Og Mandino, and became a licensed facilitator and mentor for Og Mandino. Soon Chad became dissatisfied with his income and he realized there was more "out there" for him. He decided it was time to stop wishing for more and make it a reality.

In 1998 Chad created Team Mastermind to mentor and support people in getting out of the rat race and moving toward their success. Team Mastermind started with three people: Chad, his brother, and a good friend. Within a short period of time they grew to a large organization. Chad knew he loved helping people and wanted to find a company where he could make a living doing so. He started looking at what was available and soon found the great leaders of Nouveau Riche, Jim Piccolo and Bob Snyder. Joining Jim and Bob in August of 2000, he then jumped at the opportunity to join Nouveau Riche in December of 2002 and learn how to build a thriving real estate portfolio.

Since his start with Nouveau Riche, Chad has been able to create great success in real estate and has been instrumental in training some of the top investors and leaders in the company. The proud father of four now enjoys spending quality time with his children, and is eager to continue assisting others in creating a better future for themselves and their families.
Sharon Wahlig
Nouveau Riche Leader and former Tony Robbins Success Coach
Sharon draws upon her life experiences and her expertise gained as a Tony Robbins Success Coach to lead others to success. Sharon empowers individuals to look within themselves and determine how to get what they want. Sharon is a powerful leader and coach of women within the Nouveau Riche community, enabling women to discover their unique talents and qualities and excel in a community with no glass ceiling.
Erica Combs
Erica Combs is the Vice President of Golden Mastermind Seminars, Inc. and an internationally recognized speaker, author and trainer.
She has shared the stage with world-class speakers including: Jim Rohn, Mark Victor Hansen, Jeffery Combs, Susan Sly, Jerry Clark, Pat Mesiti, Fredric Lehrman, and John Assaraf, just to name a few!
Erica specializes in self-esteem, leadership, posture, prosperity consciousness, spiritual enlightenment, emotional resilience, and emotional releasing. Her training revolves around personal growth and development, cuts to the chase, and delivers information that creates an immediate impact on your success!
Erica's coaching and training focuses on expanding your personal power to create your entrepreneurial experience. Erica is the author of the best-selling book, Women In Power: A Woman's Guide to Free Enterprise and the highly acclaimed audio CD series Prospecting With Power.
She teaches the same skills she uses in business so you can begin creating the results you desire in free enterprise today! Erica doesn't teach theory - she teaches the same skills she uses in business so you can begin creating the results you desire in free enterprise today!
Bob Tierney
Independent Regional Advisor – Utah and Illinois
Featured in Success from Home magazine, September 2008
Born and raised in the Chicago area, Bob Tierney is an avid learner with an insatiable desire for knowledge. Interested in computers at an early age, he received his very first computer, a TI99 4A with 16K memory, as a present for his 8th grade graduation! He also loved music, playing the tuba in both the high school concert and marching band, and even won first chair in the Elgin Youth Symphony Orchestra, earning the opportunity to play in a television broadcast of "Tuba Christmas". Throughout high school, Bob took as many classes as he could in various subjects and ended up graduating with 18 extra credits!

After high school, he made the decision to immediately enter the workforce. Although he received recognition for his incredible drive and leadership skills, and achieved numerous promotions and raises, working in a plastic or cell phone factory was not the vision he had for his life. Being good with his hands, he began working in the construction industry. Even though he was earning decent money and learning useful skills of the trade, he knew his career options were still limited. At the age of 24, he enrolled in DePaul University, pursuing a Major in Entrepreneurship and a double Minor in Computer Science and Psychology, while continuing to restore old houses in order to support himself. After graduation, he landed a job as a software trainer earning a substantial six figure income, until the company eliminated his position, leaving him struggling to find work in a heavily saturated job market. That's when Bob decided to no longer rely on others for creating success in his life.

Shortly after losing his job, he took all of the knowledge and skills he learned working in construction and started his own remodeling company, specializing in high-end renovation and rehab. Much to his surprise, his business started to grow through word-of-mouth, but he soon found himself working grueling hours just to manage all the projects and crews his growing business produced. Bob came to the realization that even though he was self-employed, his business owned him, not the other way around! While in search of the real "American Dream," he found Nouveau Riche!

Initially, Bob was skeptical and felt the whole idea was too good to be true. He thoroughly investigated the company, attending multiple presentations, and constantly grilling the leaders with questions until at last, he enrolled in the July 2006 College, never looking back! Now, truly his OWN boss, in under two years he has earned well over half a million dollars, but more importantly he has found the "American Dream!"

"Nouveau Riche offered everything I had been looking for: the education to learn how to make money in real estate, a chance to create an unbelievable income, the opportunity to become my own boss and to help people get out of their dead-end jobs and take control of their destinies." Bob powerfully states, "I appreciate the opportunity every day to help others realize their own dreams."
Brandon Sharp
Independent Regional Advisor – Utah and Illinois
Going to college never interested Brandon Sharp. Working odd jobs since the age of 18, he settled on a house painting career. Early on though, he found himself caught up in books on entrepreneurs, business and real estate.
After a few years in the painting profession, at age 23 he found the opportunity to start his own paint contracting company. Four years later, with a baby in the home, Brandon started to look elsewhere for an income opportunity that would enable him to work from home. After looking into real estate programs and buying some of them, he stumbled across Nouveau Riche's educational system, in late 2003. After doing three real estate deals that took one and a half years to complete, he saw a real opportunity with Nouveau Riche—the chance to gain the support and network of other like-minded and action-oriented entrepreneurs. After initial skepticism, and doing his research, he quickly realized that the Nouveau Riche educational system offered the potential for him to achieve his goals. He made the decision to move forward without looking back, and worked himself out of the business of painting in just six months, and went home to continue his real estate career.
After two years of real estate investing, Brandon took a closer look at Nouveau Riche's income opportunity through the marketing of its products, and recognized a viable way to build his cash flow. He soon discovered this as his "gold mine," and decided it was time to act on it. After making the decision in October of 2005 to put some massive action into the marketing, and set his goals, working as a team with his brother Cameron, the duo earned a spot in the coveted Five Star Winners Circle by the end of December that same year. Coming in number five, they won an amazing trip to Cabo San Lucas by private jet with the founders of Nouveau Riche and other winners. "It was like a dream (or goal) come true! Most people look for the pot of gold, but Nouveau Riche shows you how to build a pot of gold factory!" says Brandon.
Carving out his success path, Brandon proudly accepted the position as an Independent Regional Advisor within Nouveau Riche. Today he spends the majority of his time finding and building success stories within the Nouveau Riche Community. "Don't get me wrong, the money gives you options, but the opportunity to teach and train others on how to change their minds and find the success they deserve, is priceless…It's amazing to be part of that process," remarks Brandon. He suggests that "the simplest way to wealth is find someone who has achieved great results in an industry you can be passionate about, and take action on their instruction."
As a single father with a six year old entrepreneur named Jackson, Brandon takes great pride in helping others find the way to reach their goals through the power of Nouveau Riche.
Scott Rowe
Independent Regional Advisor – Utah and Illinois
Nanci and Scott Rowe, both from Midwest upbringings, began their post college careers working for a large direct marketing company, going business to business selling various company products. Through a twist of fate, they were both transferred to New York, where they eventually met and embarked on an incredible career opportunity.

They quickly formed a partnership and acquired a distributorship with that same direct marketing company. Traveling back to the Midwest together, Nanci started working out of the house, handling the accounting needs for the sales offices that Scott was opening throughout the Midwest. In 2003, Scott was promoted to Vice President of Product Sales, overseeing five states throughout the Midwest. Meanwhile, Nanci handled the finances for eighteen warehouses, averaging $100K in weekly sales. After working with the company for 15 years, Nanci and Scott both learned countless, necessary skills to build marketing teams, handle trainings, and set up and manage infrastructures.

In July 2006, Nanci came across an ad for Nouveau Riche—a chance encounter that would transform their world! They realized that they had found the perfect fit for the 15 years of experience they possessed, and both joined the Nouveau Riche Community. Just a short nine weeks after their first Nouveau Riche meeting and enjoying the benefits of successful real estate investing, they both resigned from a 15 year relationship with their previous company and went full time marketing Nouveau Riche. After six months of Super Saturdays, meetings three times a week, and lots of follow-ups, they finally became certified. In just 11 months of marketing Nouveau Riche's products, they earned a staggering $422,700!

Today, Nanci and Scott are Independent Regional Advisors for the Utah and Illinois markets, and look forward to helping hundreds of other ITAs and ISAs identify and achieve their goals of financial freedom!
Zane Hansen
Independent Regional Advisor – Utah and Illinois
Featured in Success from Home magazine, September 2008
Zane Hansen grew up painting homes with his father Floyd, working long hours, meeting crucial deadlines, and constantly trying to please home owners. He always believed that his dream was to work with his father painting houses, but soon started to realize the hard and long hours his father worked for over 35 years just to provide for his family. Although painting homes produced the financial necessities, he and his father had goals of one day owning a business that could create financial freedom and grant them more time to spend with their family while living the lifestyle they desired. Zane knew that painting homes was not the path he wanted to follow and he started seeking out other opportunities.

Being completely burned-out, Zane and his father got involved in their first real estate deal, which turned out to be a great success! This accomplishment motivated them to begin focusing all of their energy on real estate investing. Coincidently, at this same time, they learned of a family friend who was having amazing success with "some company." The next day, Zane called their family friend, IRA Kendall Stock, and he hopped on the next flight to California to attend a live presentation on Nouveau Riche!

Since starting with Nouveau Riche, Zane has earned over $250K in his first year alone and has assisted many others in creating success. He continues to live out his dream of working with his father, but this time both exude passion for their profession. In just one month with Nouveau Riche, the two earned the equivalent of painting 18 homes and, in turn, had the opportunity to spend quality time building a meaningful family relationship, which, to them, is PRICELESS!

Zane credits their success to putting God first, their family second, and always caring for others. He is also grateful to his wife and children for their constant love and support. "I have so much gratitude in my heart for my sweet wife Fallon, our son Taden, and our little one on the way…they mean the world to me." He expresses further thankfulness for all of his mentors, including Jim and Mary Piccolo and Bob Snyder for creating the dream of Nouveau Riche, his parents Floyd and Bobbi Hansen, Steve and Cindi Reeves, INSA Chad Wade, IRA Kendall Stock, and the entire Nouveau Riche Community!
OTHER LEADERS WHO WILL BE PRESENT: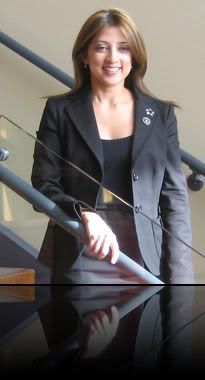 Shanny Moreno
Independent Regional Advisor – Southern Florida
Born in Panama, but raised in South Florida, Shanny was taught early on that going to a traditional college, getting good grades and a job was the path to living the "American Dream." In college, she decided to focus her studies on computers and business, because of the great demand by professionals in this industry for supposedly "great pay." After graduating with a Bachelor of Arts degree in management information systems from Florida International University, she immediately landed a full time position as a professional Software Engineer at IBM Corporation, the world's largest computer company.

As Shanny grew tired of zero work satisfaction and, to her surprise, "little pay," she started studying books on real estate investing and entrepreneurship. These books became a wake-up call: if she continued working for IBM, she was headed for a long, BORING, 30-plus-year road to retirement! Shanny decided this was way too long to wait to truly enjoy what life had to offer, and she began to re-evaluate her goals.

Shanny was determined to get out of Corporate America, become a successful entrepreneur and investor, own a profitable home-based business, and retire before reaching the age of 35. Still, she had no idea how she was going to make this happen, until four years later, when her sister Evelyn Pandozi introduced her to an amazing opportunity called Nouveau Riche. Shanny attended the Nouveau Riche College and with the valuable education she received in real estate investing and entrepreneurship, she was able to more than double her yearly salary in a matter of months. In May 2007, she was able to leave her unrewarding job at IBM and became "psychologically unemployable!"

Since joining Nouveau Riche, Shanny has developed incredible leadership skills and experienced tremendous personal growth. Using the Nouveau Riche wealth building system, she has built a legacy of wealth by "paying it forward" and teaching others how to do the same. Shanny is excited to serve in a leadership role as the first woman Independent Regional Advisor for the Florida region under INSA Chad Wade's phenomenal team.

She is extremely thankful to Co-founders Jim and Mary Piccolo and Bob Snyder for creating Nouveau Riche and the opportunity to achieve her goals. "If it was not for them I would still be trading time for dollars working for Corporate America." She is also eternally grateful to her awesome Nouveau Riche mentors, INSA Chad Wade, IRA Bill Zufelt, and IRA Raul Campos!
Bill Zufelt
Independent Regional Advisor – Southern Florida
Born and raised in Utah, Bill Zufelt grew up hunting and fishing in the Rocky Mountains for 35 years. After attending one year at Weber State College in Ogden, Utah, and a year at Utah Valley State College in Orem, Utah, his entrepreneurial spirit led him down the path of small business ownership. He opened up his own Martial Art Studios and an Advertising business, but soon discovered that these businesses didn't provide the lifestyle he desired for his growing family. His search for the "right" opportunity continued. During his exploration, he began to recognize real estate investing as a way to achieve his dreams, but didn't know how to get involved without capital. Fortunately, in June of 2004, a friend introduced him to Nouveau Riche. At the time he was running a family-owned vacuum and sewing machine store in Provo, Utah, that he had been involved with for nine years, but began working Nouveau Riche part-time. After working his Nouveau Riche business about 12-15 hours a week, by the end of 6 months he had completed 6 joint venture real estate deals and had made over $100k from marketing Nouveau Riche's products. This success enabled him to leave the family business to pursue Nouveau Riche full-time and never look back. In May of 2005, Bill received the honor of becoming an Independent Regional Advisor and helped develop the Utah, Illinois and Florida markets by sharing his success plan with others.

Fast forwarding to the current day…Bill has now been involved in over 60 joint venture real estate deals and has earned over $800k in commissions from marketing Nouveau Riche's products. Currently living in Fort Lauderdale, Florida, he focuses on building the Florida market and loves his career, which he describes as "personal development with a pay check…. I just love the ability to change someone else's life for the better on a daily basis."
Raul Campos
Independent Regional Advisor – Southern Florida
Prior to joining Nouveau Riche, Raul Campos managed money for over 20 years. He spent 15 of those years as an Independent Investment Advisor managing millions of dollars for clients and himself. Like thousands of other investors, he experienced the pain of the 2000-01 stock market crash. He then sold his practice, took time off from Wall Street, and began interviewing successful individuals on their wealth creation strategies. These individuals advised him that the bulk of their wealth was created and held in real estate. Armed with this knowledge, Raul dove into the world of real estate, attending a real estate school and obtaining his real estate license, with the belief that this schooling would give him the tools he needed to become successful. He began investing, buying and selling real estate for his personal portfolio, but enjoyed limited success. Soon he realized that his lack of success in real estate investing was, in large part, because the education he received taught him nothing about investing; it only taught him how to go out and pass a test to receive a license to sell real estate, which was never his goal. After recognizing his limited financial success, Raul contemplated returning to Wall Street to do what he knew best— manage money.
Luckily for Raul, a friend invited him to lunch to meet two of his friends— Nouveau Riche Co-founder Bob Snyder and INSA Chad Wade. Bob and Chad explained to Raul that his lack of success in real estate investing was due to his lack of knowledge, and that he was trying to apply the tricks of the trade when he should have been learning the trade and getting properly educated. They explained techniques, strategies, systems, tools and mentoring that educated investors use and apply every single day to create wealth and make millions of dollars while working smart not hard. Raul's eyes opened to a whole new world of possibilities with his introduction to Nouveau Riche. He purchased a Regents tuition, enrolled in Nouveau Riche's classes and, in his very first month, he applied what he learned from the Subject-to class and bought and sold three homes, making a $60,000 profit in a market where there had been no appreciation for the last few years. "This really works!" he thought. "What else can I learn to create more wealth?" Continuing his education with Nouveau Riche, Raul's new found knowledge of various strategies enabled him to acquire and sell over 40 properties a year and target deals netting him between $30,000 and $100,000. He says he owes all of his real estate investing success to his Nouveau Riche education, the instructors, Co-founders Jim Piccolo and Bob Snyder, and the mentorship of INSA Chad Wade.
When INSA Chad Wade invited Raul to join the team of sharp Independent Regional Advisors and assist him in the development of the Utah, Illinois and Florida markets, Raul gladly accepted the challenge. He now devotes his time and resources to give back to the Nouveau Riche Community. He says, "I get to assist others in realizing their financial dreams and goals. I've formed some awesome friendships and met some interesting people, all while earning and enjoying a six figure annual income on the marketing side of Nouveau Riche— what a great business! Thank you Jim, Bob and Chad!"
AND dozens of other entrepreneurs will also be present to teach you how to LOVE WHAT YOU DO!
Read more »