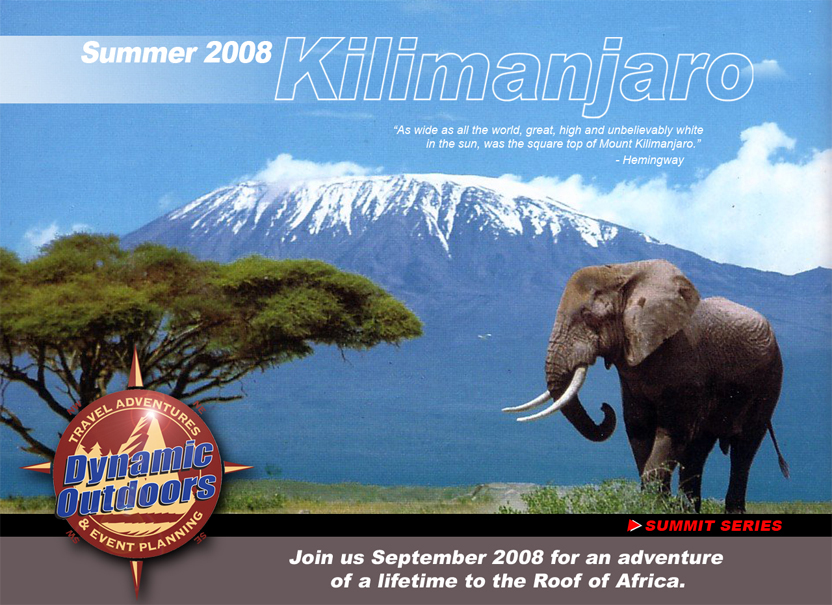 Kilimanjaro - Trekking to the Roof of Africa
African Lodge Safari & Zanzibar Combination
Tanzania, August 28 - September 14, 2008
---
Picture Gallery of our 2005 Expedition to Tanzania:
http://dointernational.com/Gallery/Kilimanjaro
---
This is the Roof of Africa, this is The Mountain, and this is one of the most adventurous expeditions you will ever undertake... !
Summit Team 2007 - 100% Success Rate !!
Kilimanjaro, Uhuru Peak (19,340ft)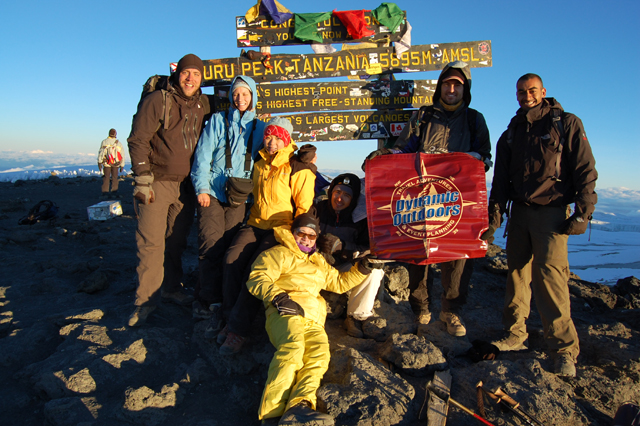 From left to right: Paijan (in the distance), Chris Averspeck, Jennifer, Michele, Yi (Yellow Banana), Stan Da Man, Fearless, Roshi (Yoshi), and Kaya (The Polish Tank - 5 minutes away)
---
Trekking Kilimanjaro... Scouting the wildlife of Tanzania... Africa, here we come...
Kilimanjaro, Safari & Zanzibar Combination: 18 days
Departure: Thursday, August 28
Return: Saturday, September 13
Arrive back in New York Sunday afternoon, September 14
(Group size 12 to 16 people)
We will fly KLM via Amsterdam DIRECTLY to Kilimanjaro International Airport
Most tour operators will fly you to Nairobi, Kenya, then "truck" you up to Kilimanjaro for 6 to 7 hours via bus.
We believe that after spending that many hours in a plane, a 6 hour (one way) unnecessary bus ride is the last thing you are looking for.
Costs Includes:
- Round trip international airfare, all transfers to and from Kilimanjaro Airport
- Kilimanjaro Trek with experienced local guides and porters
- All park fees
- All accommodations, breakfast included at The Inn
- All meals on trek and safari
(Not included are tips to porters and drivers, and rental trekking equipment)
(Also not included: expenditures of personal nature, some meals in Moshi, airport departure tax if any)
*Dynamic Outdoors provides carefully planned, cost and time efficient trips which never compromise in quality or safety*
Pricing:
$5,495 - make your deposit before April 30
$5,595 - make your deposit before May 31
$5,695 - make your deposit before June 30 (if space still available)
To reserve your spot and lock in the lowest possible price, we only need $1000 deposit.
Questions / RSVP: igorbass@dynamicoutdoors.com
About the Kilimanjaro Trek: The Machame Route (A 7-day Hike)
A 7-day hike gives us time on level terrain prior to tackling steeper ascents, more time to acclimatize, and more time for muscle conditioning. This route offers some of the most untouched and breathtaking scenery imaginable and takes us through wildlife habitat.
The Shira Plateau is a collapsed volcanic crater that formed approximately 450,000 years ago secondary to the eruption of Kilimanjaro's three volcanoes which then filled with lava from the Kibo eruption. Very few trekkers travel this stunningly captivating route and, as a result, it is perfect for those who are looking for a more solitary experience, and a chance to appreciate the sheer beauty of the mountain without any distractions.
A hike on the Machame trail is an added bonus to help acclimate to the high altitudes of the beautiful terrain leading to the Shira Plateau (ca. 3,600m). Along the way, you can enjoy the view from Lava Tower and pass below the Arrow Glacier on route to the Barranco and Barafu Camps.
We believe that this is the route which incorporates the most adventurous combination of trails leading to the ultimate African peak, yet, designed with ample time to offer a better chance for success !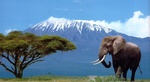 the ultimate African Expedition !
---
Lake Manyara National Park
This beautiful park is at the base of the Great Rift Valley escarpment and is composed of forest, woodland, grasslands, and swamps. Waterfalls spill over the cliff and hot springs bubble to the surface in the south.
The lake attracts considerable bird life, including pelicans, storks, cormorants, Egyptian geese, and Flamingoes. Its surrounding terrain contains such diverse surroundings that attract equally diverse species such as monkeys, antelopes, zebras, hippos and crocodiles, buffalo, giraffe, elephants, and tree-climbing lions.
Serengeti National Park
Serengeti National Park is Tanzania's oldest, and second largest, and is the best wildlife sanctuary in the world. The 14,763 square km plains offers the most complex and least disturbed ecosystems of the world, supporting the diverse wildlife including: 2 million wilderbeast, half a million Thomson Gazelles, quarter of a million zebras, in addition to warthogs, topi, hyenas, lions, leopards, cheetahs and caracals. This is also the place where wildlife migration occurs each year.
Ngorongoro Crater
The Ngorongoro Conservation Area stretches from the Karatu Highlands to the Serengeti and covers an area of around 8300 sq km. It was formed by the eruption of a mountain as high as Kilimanjaro, about 3 million years ago. The crater floor sank leaving the rim to form a natural enclosure of approximately 2,285 meters high.
Ngorongoro Crater is the best self-contained safari destination in the world and shelters a large population of animals. The crater floor is one of the most densely crowded game areas in the world and is home to about 30,000 animals, including zebra, wildebeest, more than a 100 species of birds, leopard, cheetah, hyena, elephants, warthog, impala, buffalo, hartebeeste, and antelope. It is also the best place to see black rhino as well as the magnificent black-maned male lions.
---
Trip Itinerary: - Kilimanjaro Trek
Thursday, August 28
6:00 pm Flight from JFK via Amsterdam to Kilimanjaro
Friday, August 29
8:00 pm, arrive Kilimanjaro. Transfer to hotel. Dinner. Overnight Moshi
Saturday, August 30
Day of leisure and preparation for the climb . Early evening pre-Trek briefing. Overnight Moshi.
Sunday, August 31 - Hiking Day 1
Transfer to the Kilimanjaro National Park Gate at Machame Village for the first section of the climb through the lush forest to reach Machame Campsite; approximately 4 to 5 hours.
Overnight Machame Camp
Monday, September 1 - Hiking Day 2
Continue through the forest on to the Shira Plateau to reach Shira Campsite at 12,500ft/3800m; approximately 5 to 6 hours. Overnight Shira Camp
Tuesday, September 2 - Hiking Day 3
Heading eastwards, continue ascending through the dry landscape before reaching Barranco Campsite at 13,000ft/ 3900m; approximately 5 to 7 hours. Overnight Barranco Camp
Wednesday, September 3 - Hiking Day 4
Today is an easier day. It started with a fun climb up Barranco Wall, then a traverse across Kili to Karanga camp. This is where the extra, seventh, day is. If we had only done the six-day option, we would have gone through Karanga straight to Barafu. Overnight Karanga Camp
Thursday, September 4 - Hiking Day 5
The path climbs steeply out of the Barranco Valley, crosses the Karanga Valley, then turns north to reach Barafu Campsite at 15,500ft/4600m; approximately 4 to 5 hours. Overnight Barafu Camp
Friday, September 5 - Hiking Day 6
A long day and an early start to reach the crater rim at Stella Point to see the sunrise. Continue on to Uhuru Peak (19,340ft/ 5896m), the highest point in Africa. Descend to Mweka Campsite at 10,000ft/ 3000m; approximately 6 to 8 hours ascent and 5 to 7 hours descent. Overnight Mweka Camp

Saturday, September 6 - Hiking Day 7
Descend through the forest to the park gate at Mweka wildlife college; approximately 3 to 4 hours.
Transfer back to hotel for dinner and overnight stay in Moshi.
Sunday, September 7
09:00 Transfer to Lake Manyara National Park for game drive with picnic lunch.
Dinner & Overnight Lake Manyara
Monday, September 8
07:00 Breakfast
08:00 Proceed to Serengeti, game drive en route with picnic lunch.
Dinner & Overnight Serengeti
Tuesday, September 9
07:00 Breakfast
08:00 Transfer to Ngorongoro via Olduvai Gorge.
Ngorongoro Crater Game Drive plus picnic lunch.
Dinner & Overnight Ngorongoro
Wednesday, September 10
After breakfast, transfer to Arush Airport and fly to Zanzibar
Hotel check-in, dinner and open night
Thursday, September 11
Day of leisure: Beach, Play & Relax in Zanzibar
Friday, September 12
Day of leisure: Beach, Play & Relax in Zanzibar
Saturday, September 13 - Depart Tanzania via Amsterdam
Breakfast, transfer to Zanzibar Airport to connect to Arusha or Dar Salam
Coonect to KLM flight to leave Tanzania at 9:00 pm
Sunday, September 14 - Arrive NYC 1.30 pm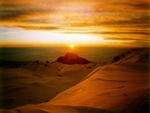 Sunrise on top of Kili...
---
Supplemental Information:
About the Trekking & Safari Outfitter
Trekking and safari services are provided by Premier Local Outfitter, a long established and very reputable firm. They are used by many overseas tour operators and travel agencies.
About the Hotel and Lodges...
Our hotel and home base, before and after the trek, and/or safari, is conveniently located just 6kms from Moshi town, on the road to Marangu, and the main gate to Kilimanjaro National Park. There is a dining room serving breakfast, lunch, and dinner with a set menu and an a la carte menu. Meals, depending on the weather may also be taken on the wide verandahs overlooking the lush gardens. The small fully stocked bar is a popular place for meeting fellow trekkers, or the many tables in the gardens, on the lawns or under shade trees. Recently there has been the addition of a sauna as well as a swimming pool and it is now possible to enjoy Indian cuisine at the pool bar.
Flight Itinerary:
Depart JFK: Thursday, Aug. 28: 5.40 pm - Arrive Amsterdam: Friday, Aug. 29: 7.20 am
Friday, Aug. 29 - Amsterdam 10.40 am - Kilimanjaroo (JRO) 8.00 pm

Saturday, Sep. 13 - Kilimanjaroo (JRO) 8.55 pm - Amsterdam 7.10 am
Depart Amsterdam: Sunday, Sep 14: 10.20 am - Arrive JFK: Sunday, Sep 7: 1.35 pm
Cancellation Policy:
If you cancel before June 30th, you would receive full refund minus $200
If you cancel before July 21st, you would receive 75% refund
If you cancel between July 21st and August 5th, you would receive 50% refund
After August 5th, there won9t be a refund possible unless we find replacement for you !
(We always highly recommend to take out basic travel insurance: www.travelex.com)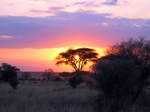 a Serengeti sun set...
Questions / RSVP: igorbass@dynamicoutdoors.com
---
Health Section:

KILIMANJARO AND TANZANIA VACCINATIONS AND TRAVEL HEALTH INFORMATION

CDC RECOMMENDED VACCINATIONS
(http://www.cdc.gov/travel/eafrica.htm)
See your doctor at least 4–6 weeks before your trip to allow time for shots to take effect.
(But if you want to come on this trip, we recommend to call your MD as soon as possible !)

HEPATITIS A or immune globulin (IG).
HEPATITIS B, if you might be exposed to blood (for example, health-care workers), have sexual contact with the local population, stay longer than 6 months, or be exposed through medical treatment.
MENINGOCOCCAL (MENINGITIS) VACCINE, if you plan to visit the western half of Ethiopia from December through June.
RABIES, if you might be exposed to wild or domestic animals through your work or recreation.
TYPHOID, particularly if you are visiting developing countries in this region.
YELLOW FEVER, if traveling to Burundi, Ethiopia, Kenya, Rwanda, or Tanzania.
As needed, booster doses for TETANUS-DIPTHERIA, MEASLES, and a one-time dose of POLIO vaccine for adults.

MALARIA
Malaria is a serious, but preventable infection that can be fatal. Your risk of malaria may be high in these countries, including cities. Prevent this deadly disease by seeing your health care provider for a prescription antimalarial drug and by protecting yourself against mosquito bites .

Most travelers to East Africa, including infants, children, and former residents of East Africa, are at risk for malaria.

All travelers at risk for malaria should take one of the following drugs (listed alphabetically): atovaquone/proguanil, doxycycline, mefloquine, or primaquine (in special circumstances).

NOTE: Chloroquine is NOT an effective antimalarial drug in East Africa and should not be taken to prevent malaria in this region.

(http://www.cdc.gov/travel/regionalmalaria/eafrica.htm)

TO STAY HEALTHY:
Wash hands often with soap and water.
Drink only bottled or boiled water, or carbonated (bubbly) drinks in cans or bottles. Avoid tap water, fountain drinks, and ice cubes. If this is not possible, make water safer by BOTH filtering through an "absolute 1-micron or less" filter AND adding iodine tablets to the filtered water. "Absolute 1-micron filter" are found in camping/outdoor supply stores.
Eat only thoroughly cooked food or fruits and vegetables you have peeled yourself. Remember: boil it, cook it, peel it, or forget it.
If you travel to an area where there is risk for malaria, take your malaria prevention medication before, during, and after travel, as directed. (See your doctor for a prescription.)
Protect Yourself from Mosquito Bites

Malaria is transmitted by the bite of an infected mosquito; these mosquitoes usually bite between dusk and dawn. If possible, remain indoors in a screened or air-conditioned area during the peak biting period. If out-of-doors, prevent mosquito bites by wearing long-sleeved shirts, long pants, and hats; apply insect repellent to exposed skin. Use insect repellents that contain DEET (diethylmethyltoluamide) for the best protection.

When using repellent with DEET, follow these precautions:
Read and follow the directions and precautions on the product label.
Use only when outdoors and wash skin with soap and water after coming indoors.
Do not breathe in, swallow, or get into the eyes. (DEET is toxic if swallowed.) If using a spray product, apply DEET to your face by spraying your hands and rubbing the product carefully over the face, avoiding eyes and mouth.
Do not put repellent on wounds or broken skin.
Higher concentrations of DEET may have a longer repellent effect; however, concentrations over 50% provide no added protection.
Timed-release DEET products may have a longer repellent effect than liquid products.
DEET may be used on adults, children, and infants older than 2 months of age. Protect infants by using a carrier draped with mosquito netting with an elastic edge for a tight fit.
Children under 10 years old should not apply insect repellent themselves. Do not apply to young children's hands or around eyes and mouth.

If you are not staying in well-screened or air-conditioned rooms, you should take additional precautions, including sleeping under mosquito netting (bed nets). Bed nets sprayed with the insecticide permethrin are more effective; permethrin both repels and kills mosquitoes. In the United States, permethrin is available as a spray or liquid (e.g. Permanone) to treat clothes and bed nets. Bed nets may be purchased that have already been treated with permethrin. Permethrin or another insecticide, deltamethrin, may be purchased overseas to treat bed nets and clothes.
To prevent fungal and parasitic infections, keep feet clean and dry, and do not go barefoot.
Always use latex condoms to reduce the risk of HIV and other sexually transmitted diseases.

TO AVOID GETTING SICK:
Don't eat food purchased from street vendors.
Don't drink beverages with ice.
Don't eat dairy products unless you know they have been pasteurized.
Don't share needles with anyone.
Don't handle animals (especially monkeys, dogs, and cats), to avoid bites and serious diseases (including rabies and plague).
Don't swim in fresh water, including Lake Malawi. Salt water is usually safer.

WHAT YOU NEED TO BRING WITH YOU
Long-sleeved shirt, long pants, and a hat to wear while outside whenever possible, to prevent illnesses carried by insects
Insect repellent containing DEET.
Bed nets impregnated with permethrin. (Can be purchased in camping or military supply stores. Overseas, permethrin or another insecticide, deltamethrin, may be purchased to treat bed nets and clothes.)
Flying-insect spray or mosquito coils to help clear rooms of mosquitoes. The product should contain a pyrethroid insecticide; these insecticides quickly kill flying insects, including mosquitoes.
Over-the-counter antidiarrheal medicine to take if you have diarrhea.
Iodine tablets and water filters to purify water if bottled water is not available.
Sunblock, sunglasses, hat.
Prescription medications: make sure you have enough to last during your trip, as well as a copy of the prescription(s).

AFTER YOU RETURN HOME
If you have visited a malaria-risk area, continue taking your antimalarial drug for 4 weeks (mefloquine or doxycycline) or seven days (atovaquone/proguanil) after leaving the risk area.

Malaria is always a serious disease and may be a deadly illness. If you become ill with a fever or flu-like illness either while traveling in a malaria-risk area or after you return home (for up to1 year), you should seek immediate medical attention and should tell your health care provider your travel history.

Other health topics
Altitude Sickness
On reaching heights above 3000m, heart pounding and shortness of breath are a normal response to the lack of oxygen in the air. However, for some visitors these symptoms can deteriorate into a conditions known as Soroche (or acute mountain sickness) when you can start to experience headaches, loss of appetite, extreme tiredness, sleeplessness and often nausea. Symptoms usually develop within the first day at altitude, but may be delayed by up to 2 weeks. To prevent Soroche, try to take things easy as soon as you arrive. Once settled in your hotel room have a lie down for a while and drink plenty of fluids. Don9t plan any strenuous treks until you9ve acclimatized for a few days. Avoid alcohol, cigarettes and heavy food. Drinking mate de coca (an infusion of coca leaves - and perfectly legal in Peru ) may help.

Consider bringing DIAMOX for prophylaxis.

Traveler's Diarrhea
Can be avoided by following the appropriate health precautions. Consider bringing ANTIBIOTICS (doxycycline, bactrim, or ciprofloxacin) and over the counter antidiarrheal medications (ie-Imodium) just in case

FOR MORE INFORMATION:
Ask your doctor or check the CDC web sites for more information about how to protect yourself against diseases that occur in East Africa: www.CDC.gov

****
Flights from NYC:
KL 0642 - Thursday, Aug. 28 - New York (JFK) 5.45 pm - Amsterdam 7.15 am
KL 0569 - Friday, Aug. 29 - Amsterdam 10.40 am - Kilimanjaroo (JRO) 8.00 pm
KL 0571 - Saturday, Sep. 6 - Kilimanjaroo (JRO) 8.50 pm - Amsterdam 7.10 am
KL 0641 - Sunday, Sep. 7 - Amsterdam 1.30 pm - New York (JFK) 3.15 pm

Flights from DC:
KL 0652 - Thursday, Aug. 28 - Wash Dulles (IAD) 5.40 pm - Amsterdam 7.15 am
KL 0569 - Friday, Aug. 29 - Amsterdam 10.40 am - Kilimanjaroo (JRO) 8.00 pm
KL 0571 - Saturday, Sep. 6 - Kilimanjaroo (JRO) 8.50 pm - Amsterdam 7.10 am
KL 0651 - Sunday, Sep. 7 - Amsterdam 1.15 pm - Wash Dulles (IAD) 3.30 pm

Flights from NYC:
KL 0642 - Thursday, Aug. 28 - New York (JFK) 5.45 pm - Amsterdam 7.15 am
KL 0569 - Friday, Aug. 29 - Amsterdam 10.40 am - Kilimanjaroo (JRO) 8.00 pm
KL 0571 - Saturday, Sep. 13 - Kilimanjaroo (JRO) 8.50 pm - Amsterdam 7.10 am
KL 0641 - Sunday, Sep. 14 - Amsterdam 1.30 pm - New York (JFK) 3.15 pm

Flights from DC:
KL 0652 - Thursday, Aug. 28 - Wash Dulles (IAD) 5.40 pm - Amsterdam 7.15 am
KL 0569 - Friday, Aug. 29 - Amsterdam 10.40 am - Kilimanjaroo (JRO) 8.00 pm
KL 0571 - Saturday, Sep. 13 - Kilimanjaroo (JRO) 8.50 pm - Amsterdam 7.10 am
KL 0651 - Sunday, Sep. 14 - Amsterdam 1.15 pm - Wash Dulles (IAD) 3.30 pm
---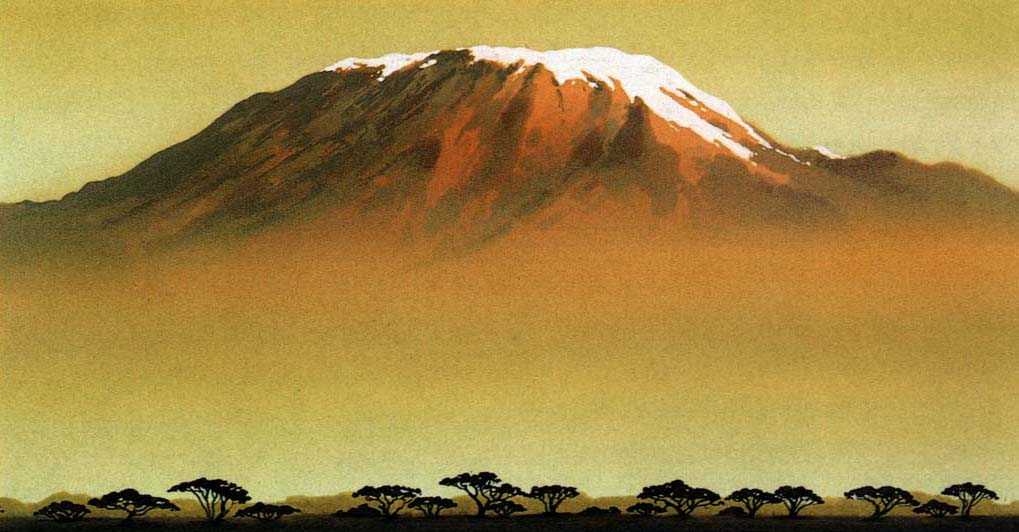 xx