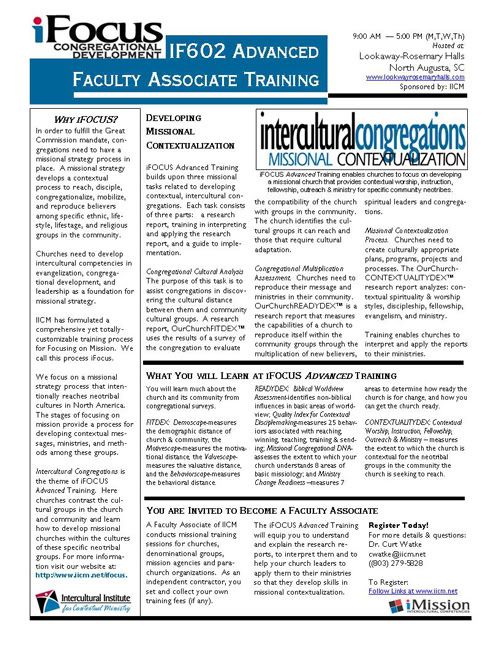 Course Instructor
Dr. Curt Watke
IICM Executive Director
IF602 iFOCUS Advanced Sample Reports:
FITDEX, READYDEX, CONTEXTUALITYDEX
You will receive copies of sample surveys & reports to use during the training. Included in the training price will be the cost for up to 100 surveys for each of the 3 surveys for the church with which you are working. (Additional surveys are 75 cents each.) You will need to submit these surveys within 3 months after the event to get your FREE reports ($891 value).
FOR RESERVATIONS FOR LODGING & MEALS CONTACT:
This event will be held at the historic Rosemary Hall in North Augusta, SC, a Four Diamond bed and breakfast. Rosemary Hall and Lookaway Hall are two antebellum mansions built at the turn-of-the-century. The two houses are located in the town of North Augusta across the Savannah River from Augusta, Georgia, home of the famed Masters Golf Tournament. The homes were magnificently restored and furnished with period antiques and fine reproductions. The 23 rooms all have private baths, some with Jacuzzis, all rooms have remote control TVs, direct dial telephones and every guest room is decorated in a different fabric, but all rooms are large, some with private verandas. A home-made full breakfast is served in the dining room and complimentary hors d9oeuvres are served every evening.

Both houses are on the historic register and were prominent in the development of North Augusta. The 14-foot ceilings, grand staircases, pocket doors, brick courtyard and 75 plus camellia bushes, many created on the property 75 years ago. These stately mansions with 50-foot columns, wide verandas welcome guests from around the world. Four-poster and canopy beds invite a restful night9s sleep.
Price for one person per night: $106.50.
Price for a couple (bring your spouse!): $134 -- stay an extra day or two and make it a mini-vacation!

Accomodations includes cost of breakfast and lunch each day, Monday thru Thursday (dinner cost on your own).

TUESDAY AFTERNOON -- WILL BE FOR RELAXATION!
Here are some possibilities (at your own cost):
Golf at nearby River Golf Club: $60 at http://www.rivergolfclub.com

Colonial Times History: http://www.colonialtimes.us

Augusta Canal Tour: http://www.augustacanal.com

Augusta Museum of History: http://www.augustamuseum.org

Morris Art Museum: http://www.themorris.org

Walk the Riverwalk Augusta: http://riverwalk.tripod.com/walk.html

Antiques & Boutiques in nearby Aiken: http://www.aiken.net
Explore Hammonds Ferry, the new downtown NA: http://www.hammondsferry.com
Explore the North Augusta Greeneway: http://www.northaugusta.net/Dept_Serv/Parks_Recre/Greeneway.html

Explore North Augusta: www.northaugusta.net

Contact Information:
Lookaway-Rosemary Halls
http://www.lookawayrosemaryhalls.com

toll free (877) 208-6222
office (803) 278-6222
fax (803) 278-2066

Email: lookrose@msn.com
NEAREST AIRPORT (12 miles)
Augusta Regional Airport, Augusta, GA (AGS)
Read more »