Join us this April for an encounter with God as we gather leaders from across EMCF. Inspirational worship and speakers, with great community. An intense time of meeting with God in a unique way!
The theme of this years Encounter Weekend is Releasing Radical Missional Disciples! Not only are we looking for an encounter with God but for each one of us to be challenged and envisioned about the mission we find ourselves on.
Speakers
We are pleased to confirm that David Stroud is our main speaker at this year's Encounter weekend. David is the leader of Christ Church London and the UK leader of the NewFrontiers network of churches. We are very pleased to be able to welcome him to be with us. NewFrontiers have been known for some time for their pioneeting church planting and recently David has been pushing out in the areas of transforming society with the Everything conference. Everything is about how the church can engage with and impact everything in our society and we hope to hear more from him in this area.

We are also pleased to announce that Rich Robinson of St Thomas' Church Philadelphia, Sheffield, will also be speaking. St Thomas church has been at the forefront of developing Missional Communities.

Rich is a part of the staff at St Thomas' and is involved with training an equipping other church leaders along with the rest of the team. Rich will be with us on Saturday 9th.
Mark and Nesta Mumford will also be sharing during the weekend.
Venue - The Hayes Conference Centre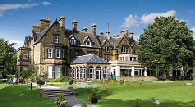 The Hayes Conference Centre is set in beautiful Derbyshire countryside. It was built in the 1850s as the home of Mr. Fitzherbert Wright. In 1910 his son, Henry, sold the Estate to the company who adapted and extended it for use as a Conference Centre. The accommodation is en-suite and we have booked a mix of double and twin rooms.
There are a variety of onsite recreational activities including indoor and outdoor sports, local walks and a games room.
Unfortunately there is no provision for children on the weekend. Under 2s are allowed with a crèche room available. (Parents must supervise children as no crèche worker is provided).
Pricing
We have tried to keep the price as low as possible but recent price inflation and VAT increases have put pressure on this.
The price per adult is £128 but there is an Early Booking Discount for residential places of 10% if you book before Wednesday 30th March 2011.
The Early Booking Discounted Price is £115 per person.
How to Book
Please use this booking system to reserve and pay for your place at this year's encounter weekend. If you experience difficulties using the system please either email encounter@emcf.net or contact the EMCF office at Bridge House for assistance (Office hours: 09.00 - 1600, Monday to Friday: 01332 332044, Option 2)
Early booking closes at 11.55PM on Wednesday 30th March so please make sure you get the best price by booking before then.
If you would like to come but are unable to afford it (un-waged, student, etc) please apply in writing to the EMCF office or speak to your church leader as we have a number of subsidised places available. We will consider your circumstances and inform you of whether we can offer a discounted price.
Read more »