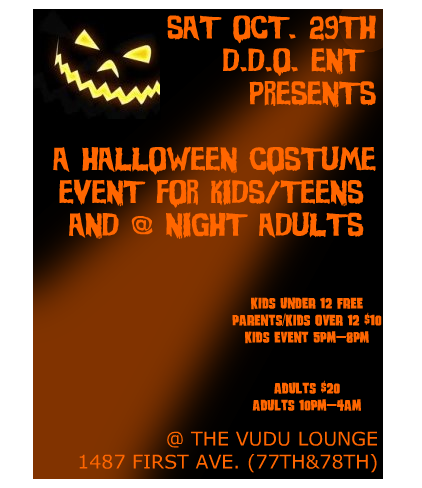 DUST'N DREAMZ OFF ENTERTAINMENT AND HIP HOP FIGHTS DIABETES HAVE JOINED FORCES TO BRING A HALLOWEEN EVENT FOR YOUR CHILDREN.

WE'RE HAVING AN OLD FASHION COSTUME PARTY WITH GAMES AND CANDY. VEGETABLES AND SUGAR FREE COOKIES, SUGAR FREE CUPCAKES WILL ALSO BE AVAILABLE AS HEALTHY ALTERNATIVES.

ALL PROCEEDS FOR THIS CHARITABLE EVENT ARE FOR THE HIP HOP FIGHTS DIABETES FOUNDATION FOUNDED BY DDOE
MEMBERS DJ EZ ROCK AND TERRANCE (PJ) HOWARD WHO ARE BOTH DIRECTLY AFFECTED BY THIS DISEASE.

IN AN ATTEMPT TO BRING AWARENESS AND EDUCATION TO PARENTS AND CHILDREN ABOUT THIS DISEASE THAT AFFECTS OVER 200,000 (and growing) CHILDREN UNDER THE AGE OF 20 YEARS OLD


MUSIC BY DDOE'S DJ COACH K, DJ ROC-OUT AKA SIR ROC, THE
LEGENDARY DJ EZ ROCK AND HOT 97'S OWN DJ ASTRO!

ID IS A MUST! SECURITY WILL BE CHECKING WITH A SCANNER!

CHILDREN UNDER 12 ARE ADMITTED FREE! PARENTS, CHILDREN 12 AND UP

ARE $10

ADULT EVENT IS $20. PARENTS ATTENDING THE CHILDREN EVENT AND

ALSO ADULT EVENT PAY REDUCED PRICE OF $10 FOR ADULT EVENT.

FOUNDATION T-SHIRTS WILL BE ON HAND. $10 S,M,L, $20 XL,XXL,3X

50/50 CASH PRIZE RAFFLE

DONATIONS ARE HUMBLY ACCEPTED AND GREATLY APPRECIATED!
Read more »