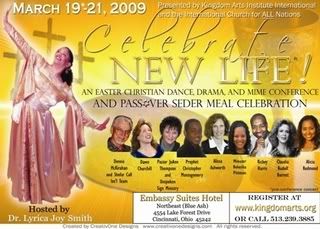 Celebrate New Life is a Christian Dance, Mime and Drama Conference where you will learn COMPLETE dance, mime and drama presentations so that you are fully prepared for Passover, Good Friday and Easter services for your church and community services. Classes are divided by levels so there are classes for everyone. All classes are taught by ministry professionals.
The Jewish roots of our faith are highlighted in the Seder Meal Service and Dinner where you will participate in a traditional Messianic Last Supper Service just as the disciples of Jesus did! Grow in your knowledge, assurance and worship experience as Jesus is revealed in the celebration of this Last Supper with messianic music, songs and dance!
Classes include: Drama for groups and individuals, Mime dances for groups and individuals, Sign language/ Human Videos for teams, The Ministry of the Shofar and Blowing Techniques and Sounds, Flags and Banner Choreography for teams and individuals. Dance classes for teams and individuals in: Jazz, Hip Hop, Worship and Praise Dance, Ballet Technique and Choreography, Prophetic Dance, and Israeli dance!
Come join us and have no pressure this Easter / Passover Season. Learning complete presentations allows you to enjoy the season and present excellence to your church while being renewed in the services and fellowship of other worship artists! Experience the peace of the words.. "It is finished!"
Join us and be resurrected, renewed and refreshed and Celebrate YOUR new LIFE!