Join Dynamic Outdoors and Kelly Dwyer for a day of hiking and hatha yoga in the serene and peaceful New York wilderness. Our day begins with a warm-up stretch, and then we hike in to our beautiful Yoga spot with views of the glorious Fall colors.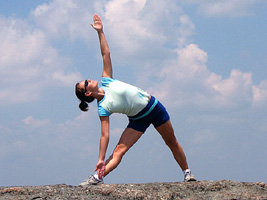 After 1hr 30min of yoga, we refuel our bodies with lunch. Our afternoon contains the remainder of the hike. You will return to your busy life relaxed and energized. Experience the magic for yourself!
Saturday, October 7 8:30am - 6pm
Cost: $75 includes RT transportation to/from Manhattan, guided yoga session, guided hike, beverages and snacks for the way back.
Bring with you: Yoga Mat, Towel to place under mat, Backpack, Lunch, Water for hike, Sunglasses, Sunscreen, Hat. (there a limited # of yoga mats that can be loaned if you don't have one of your own...)
Please note that we also accept prepayment in the form of check or cash. If you would like to make arrangements to pay with check or cash, please contact Kelly directly.
Questions to Kelly:
yoga@dynamicoutdoors.com
Read more »