JOIN US SUNDAY NOVEMBER 30TH, 2008...
UPGRADE YOUR NIGHTLIFE @ CIRCOLO

2 SMOOTH- CHAPTER 2
THE PRESIDENTIAL SUITE
SAN QUINN'S OFFICIAL RECORD RELEASE PARTY
FOR NEW ALBUM "FROM A BOY TO A MAN"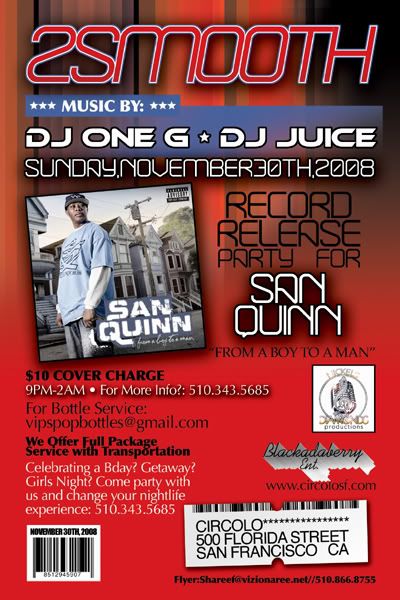 CIRCOLO
500 FLORIDA ST
SAN FRANCISCO, CA, 94410
PLENTY OF DRINK SPECIALS
***** $10 GUESTLIST *****
FOR GLIST OR BOTTLE SERVICE CALL 510-343-5685 OR EMAIL - VIPPOPBOTTLES@GMAIL.COM
ENJOY YOUR THANKSGIVING
COME DANCE OFF YOUR THANKSGIVING DINNER W/US THIS SUNDAY!
WITH LIVE PERFORMANCE BY SF FAVORITE SON
SAN QUINN
SPECIAL INVITED GUESTS: E40, LAROO, THE JACKA, KEAK DA SNEAK, BIG RICH, JT, BEEDA WEEDA, KAFANI, GOLDIE GOLD, B LEGIT, DSHOT, FRONTLINE, RICHIE RICH, TOO SHORT, DRU DOWN....AND YOU!!
CELEBRATING BIRTHDAY,GETAWAY, GIRLS NITE OUT? WE CAN PROVIDE PARTY BUS/LIMO SERVICE AND ALSO HAVE REFERRAL FOR LICENSED CHILD CARE PROVIDER WHO HAS NIGHT CARE. WE WANT TO GIVE YOU, THE CUSTOMER THE BEST SERVICE, TAKE ADVANTAGE OF OUR CLUB PACKAGES AND COME SEE WHAT WE'RE ALL ABOUT IT!
AS A COURTESY TO ALL OTHER ENTERTAINMENT PROFESSIONALS, ALL PROMOTERS ARE FREE W/ONE GUEST - PLEASE TEXT CONFIRMATION TO 510-590-1179
Read more »